Famous Magician - Harry Keller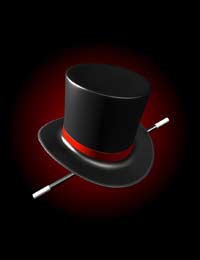 Harry Kellar was once the most famous magicians in America, and one of the most famous in the World, but today fans of magic are likely to hear the name and ask, "who?" Thanks to the imprint Harry Houdini left on the world of magic, many magicians like Kellar have fallen by the wayside, but this hard working, hard hitting American magician was in his day bigger than Houdini.
Harry Kellar
Heinrich Keller was born in 1849 in Erie Pennsylvania. His parents, German immigrants who were very stern, would likely have been very hard on Harry, as he was known, when as a ten year old pharmacist's helper he blew a hole in the shop floor after experimenting with off limit chemicals. That is, they would have been hard on him if he had come home; instead Harry jumped aboard an outbound train and left his childhood behind forever.
Harry was a big fan of trains and what they represented. Infamous for playing games of chicken with the hurtling behemoths, he went from dodging the engines to riding in the cars, hidden among the cargo, to get where he wanted to go. Through his life he would criss cross the United States on the rails, always on the move from one adventure to another, and eventually would add ships to his mode of transport, leaving the States and traversing the globe.
Harry changed the spelling of his last name to Kellar to avoid the appearance of imitating another up and coming magician, Heller. This was after years of surviving the hard knocks of growing up away from home, on the road, striving to learn the trade of the magician. He applied for a job with the Fakir of Ava and was accepted; a fantastic opportunity for this child to grow up learning from a professional.
Getting his Start
Striking out on his own Kellar had a number of false starts, often winding up broke and destitute but using his gumption and innovation to start afresh. For some time he was the stage manager for the Davenport Brothers, the first travelling American Spiritualists, and then left them to start his own act with another of their crew. He travelled the world building skill, fame, and fortune (which again he lost and rebuilt many times over.)
He was idolized by Harry Houdini, who would often say he took his first name in honour of Kellar. While untrue, it was a wonderful sentiment and an example of how large an impact Kellar had on the man who would go on to define magic to many people.
Dean of American Magicians
Kellar was famous for his playbills and advertisements featuring imps and devils, implying, without implicitly stating, that his skills were really powers gained through dealings with dark forces. This tantalizing idea brought people to his show in droves.
Long after retirement Kellar was convinced by Houdini to appear and perform in a benefit put on by the Society of American Magicians. The man, advanced in age, put on a fantastic show. At the end, after his bows, Houdini appeared and sprung his surprise, a large sedan chair shouldered by himself and many other magicians, to carry off the Dean of American Magicians in style amid a great deal of pomp and circumstance.
You might also like...