David Copperfield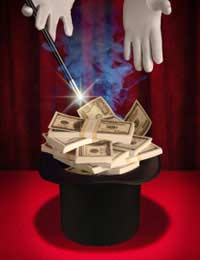 The tall, dark, and handsome man in the dramatic shirt and perfect hair swept towards the front of the stage. In the background a beautiful woman in a flowing dress floated a few feet in the air, drifting ever so slightly up and down. The man stopped in front of the TV camera, which was capturing the drama and shooting it to millions of homes, live. The handsome man paused and looked at each and every TV viewer, and smiled. This moment, and dozens more like it, is etched in the memory of anyone who has seen a David Copperfield TV special.
Early Life
David Copperfield, as any Literature Major can tell you, is the name of book by Charles Dickens. David Seth Kotkin is the birth name of the handsome man amazing millions with his magic, or at least it was until age 18, when he adopted a stage name that forever after confused anyone familiar with both the magician and the book.
David Seth Kotkin was born in New Jersey, USA, and picked up magic at age 12. Most kids pick up magic and put it down just as quickly. Some lucky find a life time hobby. David found his calling. By the age of 16 he was not only the youngest magician ever admitted to SAM, the Society of American Magicians (and the oldest such society in the world), he was teaching magic at New York University for college credit.
The father of Modern Magic, Jean Robert-Houdin, said that a magician is actually an actor performing the roles of a magician, and David Kotkin took that advice to heart. At age 18 he adopted his now famous stage name when he was cast as the lead in the musical The Magic Man. A year later he was the headliner working at the Pagoda Hotel in Hawaii.
David Copperfield, Magician
David's close up magic is something to behold. Like most magicians this is where David started, card tricks and coin rolls and making silk handkerchiefs disappear. When he moved to performing large scale stage illusions, however, fame found him. His sense of drama makes every act a spectacle and a story, and has won him admiration and attention countless times from his audiences. His dashing good looks don't hurt, either.
Driving motorcycles on stage, floating beautiful women, switching places with camera men, sawing women in half are all part of the act, and all done to perfection. With all the big effects, however, David never forgot the close, intimate, personal slight of hand. Frequently on TV he would have the camera come up close and watch his hands as he made rubber bands melt through each other, ropes tie and untie themselves, and of course perform ubiquitous card tricks.
Famous Moments
David Copperfield has hit many records in the field of magic, becoming the richest magician - and one of the richest solo performers, period- in history. To get there he has floated, "flying", over Niagara Falls and the Grand Canyon. He has walked through the Wall of China, and made a jumbo jet disappear. Perhaps his most talked about moment, however, was when he made the Statue of Liberty in New York City Harbour vanish on live television.
David Copperfield's Influence
As Houdini was for Copperfield, so Copperfield has been for young students of magic in the later days of the twentieth century. Up and coming magicians are vying for the attention of the general public, with fresh ideas and fresh faces, but David Copperfield still performs hundreds of shows a year, continuing to amaze.
You might also like...