Hygiene - the Magician's Best Friend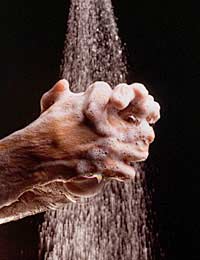 It may seem rather silly to talk about Hygiene and Magic in the same topic, but believe it or not some of the most well meaning amateur - and even those trying to be pro - magicians can be eternally frustrated by lack of success simply because they don't keep their nails neat and clean.
The Effect
Don't let this happen to you: You have put in hours of practice and have all of your sleights down pat. You have stuffed your pockets full of props and equipment and run through all of your patter, and head downtown for what you hope to be a great day of street magic performing. Halfway through the day, however, you are frustrated as not a single spectator stuck around for a second trick. Could the fact that three of them have offered you a breath mint have anything to do with it?
The Secret
Keeping your self neat and clean keeps the audience focused on your magic and not your bad hygiene.
Materials
Breath mints, nail clippers, hair products, deodorant/ antiperspirant, comb, pocket handkerchief, tissues, pocket mirror
Preparation
We don't need to tell you how to run through your morning routine of getting clean, but we do want to talk about the importance of such. In your day to day life you may not take the time to push the cuticles back on your nails or make sure they are neatly and uniformly trimmed, but you will want to before you perform magic in front of an audience.
Performance
Here are a few tips to emphasise why good hygiene is important to a magician's success, no matter how "big" or "far" they hope to take their magic routine.
The Hands: Nails should be neatly trimmed and buffed, and any out of control calluses should likewise be buffed. Any cuts on the hands should be healed before performing. Consider a "cover-up" type of make up to put the finishing touches on hiding marks on the hands that might be distracting during close up routines. Nail polish, if used, should either be very neutral or picked to specifically emphasis a themed routine.
Breath: Bad breath is a killer to any kind of focus. If you want the audience to be able to appreciate the hard work you have put into amazing them, you want their mind to be on what you are doing, not on looking for ways to escape your bad breath. Mouth wash in the morning, and a breath mint a few minutes before show time should help.
Hair: If you have no clue whether or not your hair is stylish enough, a visit to a pro would be worth while. At the very least hair should be clean and neatly trimmed - and this goes double for any facial hair. A barber or hair stylist will usually trim a beard or moustache for a small fee.
Magical Tip
Hopefully you have a test audience you use to debut your new tricks and routines; ask them to give you feedback on your appearance and hygiene as well.
You might also like...
I'd hope than everyone, but especially a performer in front of the public, would pay attention to personal hygiene. I suppose that magicians do need to pay special care to their hands, particularly where performances are close up, such as at parties. Really, though, I'd hope that this article would be unnecessary and that everyone would have enough respect for themselves and others to make sure their clean and smell good, or have I missed something in life?