Harry Houdini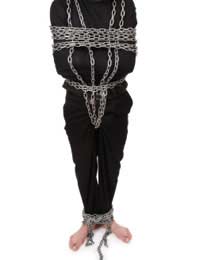 In 1874 a young boy was born in Budapest who would one day astound the world. His name and his antics would become synonymous with feats of astounding magic. Harry Houdini, the Elusive American, the Self-Liberator, the Master Mystifier, was born Ehrich Weiss.
Early Life
Moving to Appleton, Wisconsin at the age of one along with his family, young Ehrich quickly became an American in thought and deed. His father Samuel Wiess was the town Rabbi, but soon was forced to move to New York City in search of work. Ehrich, taking seriously his promise to his father to watch out for his mother, soon followed him, working his way across the country.
In New York Ehrich continued his habit of exercising and eating right, excelling at neighbourhood sport like swimming, running track, and even boxing. He found was to add to the family's income, including a job at Richter's Tie Factory, working on a bench with pal Jacob Hyman as a tie liner cutter. It was at this spot that Harry shared with Jacob his fascination with magic in general and Jean Robert-Houdin, the father of Modern Magic, in particular. Jacob told him that in the French language adding an "i" to the end of a name meant "like", and so Houdini was born. Ehrich's nickname was "Ehry", so the transition to Harry Houdini was a natural one.
Harry and Jacob began performing at dime museums for next to nothing as "The Brothers Houdini", but lack of dates prompted Jacob to leave the act. Harry's little brother Theo, later know as "Hardeen", joined for a time, himself being replaced when Harry married Beatrice Rahner, known as Bess.
Harry Houdini, Magician
Bess and Harry, as "The Houdinis" astounded audiences with a trunk trick known as the Metamorphosis, which involved a bound and locked Houdini switching places with Bess, standing outside the trunk, in three seconds. To add to the suspense Harry would use handcuffs instead of rope ties, devices he was already very familiar with, having worked at a lock shop as a youngster.
It was the handcuffs that would propel Houdini to fame. A promoter for the Orpheum Theatre circuit hired the Houdini's on the promise they would do more handcuff escapes, and Harry would never have to play a dime museum again. Inventing the "handcuff challenge act", Houdini would invite spectators to bind him with anything they could find and would then escape the devices. The only times he failed is when the spectators cheated by plugging the key holes or otherwise rigging the handcuffs so they could not open short of hacking off the chains.
Famous Moments
Houdini has become famous for a number of specific effects, such as the Milk Can escape, the Water Torture Cell, escaping from packing crates, and crates tossed into rivers, liberating himself from jail cells and even a notorious Siberian Prison Transport in Soviet Russia. In each situation Houdini put himself under extreme duress and defeated the challenge, winning the hearts of his audience and the press.
Houdini's Influence
Hardly a magician today does not owe Harry Houdini a debt. Houdini elevated the magic arts to a phenomenon, and invented an entire knew category of magic, the escape act. Later in life Harry became an activist, fighting against fraudulent spiritualists who used conjurer's tricks to dupe the bereaved. It was after one speech on this subject that he met with college students in Canada, one of whom wished to test Houdini's legendary abdominal muscles.
Harry allowed him to strike Houdini in the stomach, but the student acted too quickly. The unexpected blow ruptured Houdini's appendix, and Houdini died ten days later, on Halloween.
You might also like...